Automatic Drop Off
AEROPORT DE PARIS
2011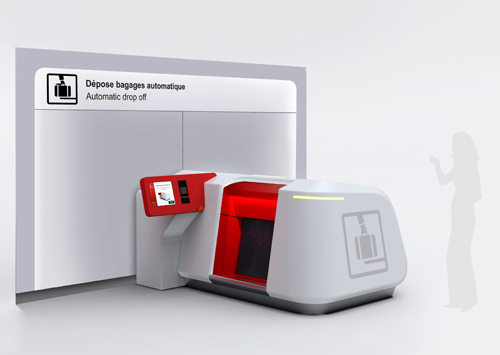 Developed with the engineering department of AEROPORT DE PARIS, the ADO is an innovative automated system that allows passengers to save their luggage independently. Featuring a futuristic design that invites you to travel, this machine is designed to record a piece of luggage in less than a minute, very simply.
Simply scan his boarding pass and place his suitcase in the machine. This independent solution can be easily moved, arranged alone or in battle. Its aim is to drain as rapidly as possible a growing number of passengers. This solution has been installed to date at ORLY West – Paris.
Design with: Olivier Beune and Filipe Da Costa.
Partners: ADPi, D3, ALSTEF, NCI Studio, Studio Ergonomics
Label Observeur du Design 2012